Some organizations like to schedule the applicants themselves. However, if you'd prefer for the applicants to select their own slots in the schedule, you can invite them to the Group in several ways. If you want to automatically invite them upon submission, you can assign programs from the Scheduling Groups table. If you are not inviting automatically, there are two options to manually invite applicants to the schedule.
OPTION 1: Inviting from the Submissions Table
From your main submissions table, check the box next to the applicant(s) you want to invite to schedule. Then, click Group Actions and select Schedule from the dropdown menu.
In the new window that appears, you have the choice to either assign them to a group, in which they can select the specific sessions they want to schedule OR you can assign them to a specific session (this option only applies if you have enabled waitlist)
Once an applicant is assigned to a Group or Session, they will receive a notification if you've setup an "invited" notification, letting them know they login and select their timeslot. If you do not have that notification setup in the platform, you will need to message the applicant with these instructions.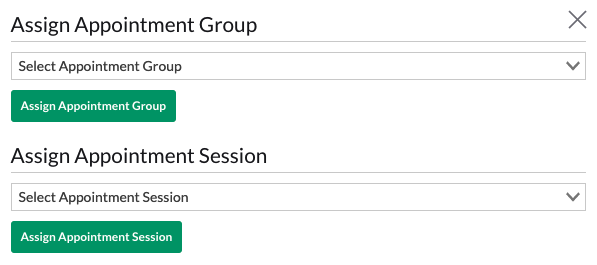 Inviting/assigning applicants from the submissions table is a great way to invite multiple applicants at once.
OPTION 2: Inviting from the Application View
From the individual application view for each applicant, navigate to the Scheduling tab and click the green Schedule button. From there, you will follow the same steps as above using the dropdowns to assign the applicant to either a specific Group or Session.
Note: Inviting applicants in the individual application view, only assigns one applicant at a time.
Are you an administrator for an arts organization? Would you like to learn more about Acceptd's resources? Check out more at: Applications | AuditionRoom | Marketing