Scheduling from the Main Schedule View
Navigate to Schedule and select My Schedule from the dropdown menu. From here, expand the Group you'd like to view (using the "+") and click on one of the available slots.
You will see a popup with a dropdown of all your applicants.
Once you select an applicant, you'll see a confirmation window which displays the specific Timeslot Details and Applicant Details. If you have a Scheduling Notification set up with the condition "Scheduled by Organization", then the Applicant will receive a notification 3 hours after their session has been scheduled.
You can return to this window at any time by clicking on the applicant in your schedule. When you are back in the Timeslot Details editor, you are able to change the applicant using the dropdown, lock the applicant into this slot, remove the applicant from the slot, message the applicant, navigate to their application, remove them from the group, or add them to another group.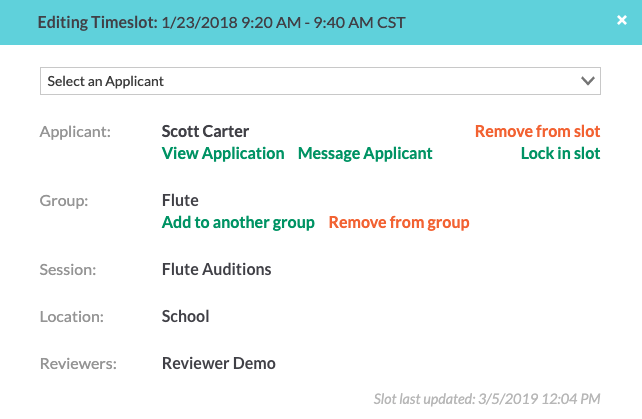 IMPORTANT: Keep in mind that if you have "Scheduled by Organization" notifications setup, you can reschedule and move around the time slot assigned to an applicant for up to 3 hours before they are notified of their assigned time.
Scheduling from Application View
From the application view, navigate to the "Scheduling" tab.
Under this page you can immediately select a slot for the applicant. You do not have the option here to schedule other applicants OR remove the current applicant from the schedule.
Are you an administrator for an arts organization? Would you like to learn more about Acceptd's resources? Check out more at: Applications | AuditionRoom | Marketing